LIST OF MESSAGES/WISHES ON GIANT CHOCOLATE BAR (150gr.)
| | | |
| --- | --- | --- |
| Σ'αγαπώ | | Είσαι μεγάλος |
| Μ'αγαπάς | | Είσαι δυναμίτης |
| Σε λατρεύω | | Δεν υπάρχεις |
| I love you | | Είσαι μεγαλο νούμερο |
| I @ U | | Είσαι Θεός |
| Είσαι η Πριγκίπισσα μου | | Είσαι Θεά |
| Είσαι το Σοκολατάκι μου | | Έχεις κάνει ζημιά |
| Είσαι μοναδική | | Είσαι όλα τα λεφτά |
| Είσαι μοναδικός | | Δεν παίζεσαι |
| Είσαι αστέρι | | Είσαι ότι να΄ναι |
| Είσαι Γλύκα | | Έλα ρε φίλε |
| Είσαι η αγάπη της ζωής μου | | Γατάκι… |
| Είσαι η σοκολάτα της ζωής μου | | |
| Είσαι πιο γλυκιά από τη σοκολάτα | | Στον καλύτερο μπαμπά του κόσμου |
| Σαγαπώ σήμερα, αύριο & για πάντα | | Στην πιο γλυκιά μανούλα του κόσμου |
| All you need is love & chocolate | | Μανούλα σαγαπώ |
| Κάθε μέρα σ'αγαπώ περισσότερο | | Στον καλύτερο παππού του κόσμου |
| | | Στην πιο γλυκιά γιαγιά του κόσμου |
| Χρόνια πολλά | | Στον καλύτερο νονό του κόσμου |
| Happy Birthday | | Στην πιο γλυκιά νονά του κόσμου |
| Σας ευχαριστούμε | | Στον καλύτερο αδερφό του κόσμου |
| Ευχαριστώ | | Στην καλύτερη αδερφούλα του κόσμου |
| Συγγνώμη | | Στον καλύτερο φίλο του κόσμου |
| Καλό ταξίδι | | Στην καλύτερη φίλη του κόσμου |
| Καλή επιτυχία | | Best Friends Forever |
| Καλή σταδιοδρομία | | |
| Περαστικά | | Keep calm because I love you |
| Καλή τύχη | | Keep calm and never give up |
| Ζήσε τη Στιγμή | | Keep calm and believe |
| It's a Boy | | Keep calm and relax |
| It's a Girl | | Keep calm and smile on |
| Να σας ζήσει | | Keep calm and eat chocolate |
| Να ζήσετε | | Keep calm and love me |
| | | Keep calm & στέμα |
| Love me... | | Keep calm YOLO |
| Follow your heart Eat Chocolate | | YOLO |
| Just Do It Eat Chocolate | | |
| Carpe Diem | | ΑΡΕΙΑΝΑΡΑ |
| I Love Thessaloniki | | ΠΑΟΚΑΡΑ |
| | | ΗΡΑΚΛΑΡΑ |
At Agapitos Patisserie Gifts to Greece, the art of presentation matters!
A beautiful wrapping heightens the sense of anticipation for the person fortunate to receive a gift. And when gorgeously wrapped, any gift can be worth so much more than the sum of its parts. With the custom gift wrapping service (for free), you can be sure that your gift will make a special impression. Each present is uniquely wrapped to fit the gift occasion or your recipient's own style. Your associate, friend or loved one will know the forethought and care you put into their gift.

You can choose the wrapping based on the following gift occasions:
- Wedding
- Thank you
- New Baby Girl
- New Baby Boy
- Happy Nameday
- Happy Birthday
- Get Well soon
- Easter
- Congratulations
- Christmas
- Anniversary
or you can contact us to discuss your packaging requirements.
Please note that you can use the gift wrapping option only in the shopping cart menu.
When you've finished adding items to your Shopping Cart, click the "VIEW CART" button.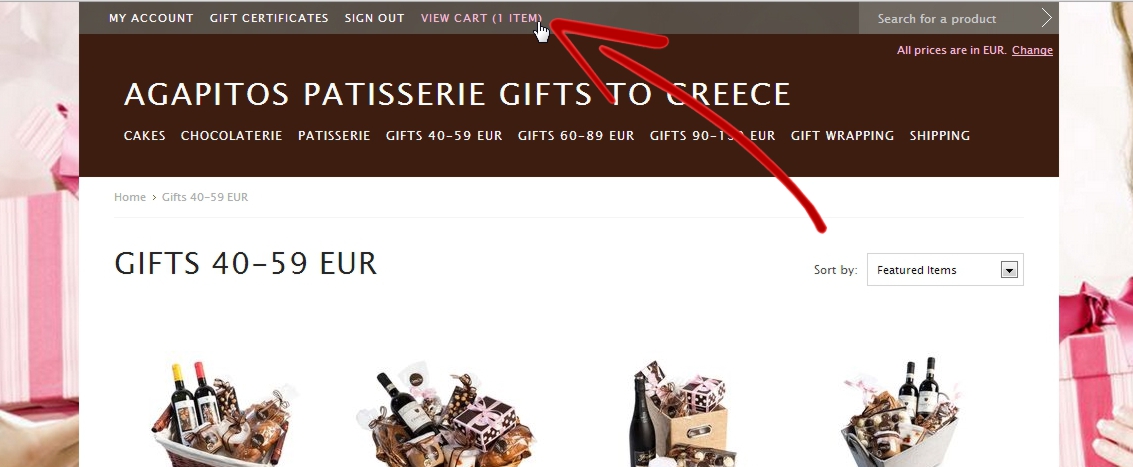 In the shopping cart you have the opportunity to select "Gift Wrapping: (Available only in shopping cart): Add ". Click on Add. A new window will open then you can choose how you'd like to have this item gift wrapped.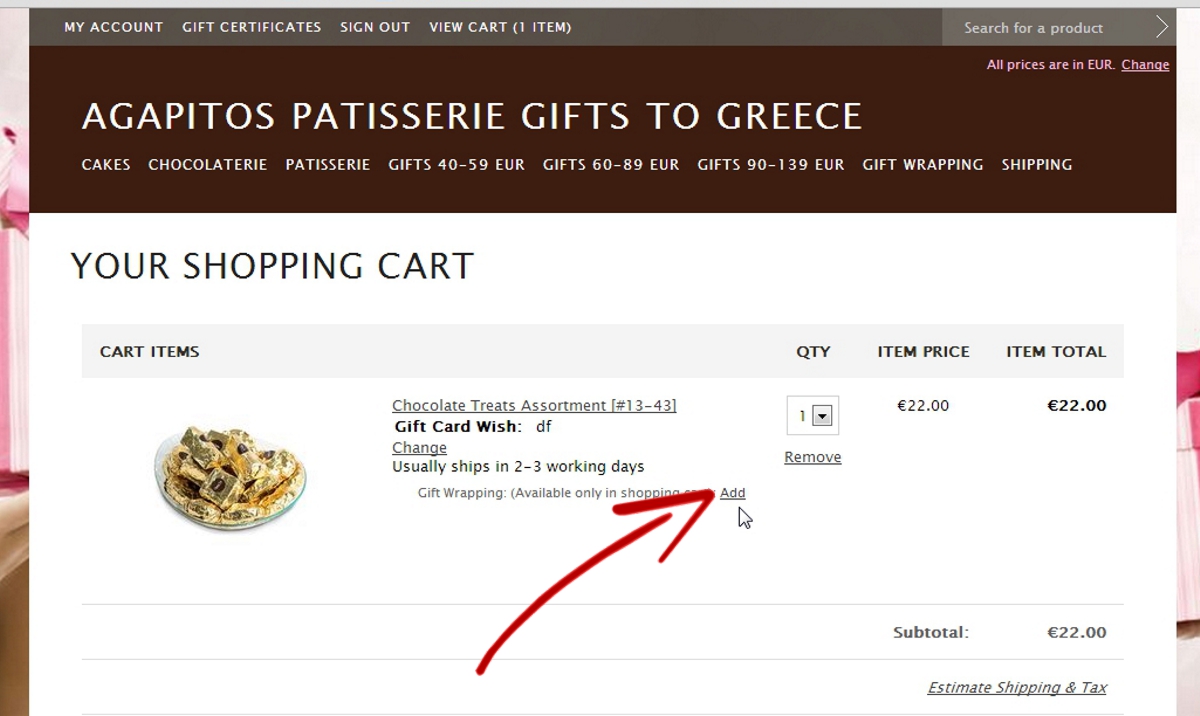 If you have any questions, please don´t hesitate to contact Customer Service.