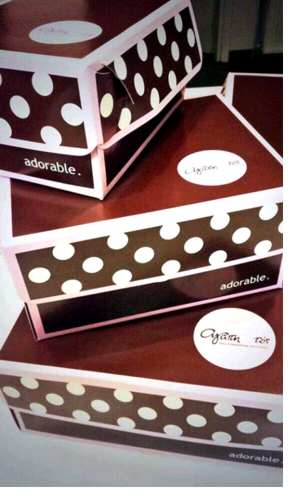 We ship our products in Greece, to virtually any address. We do not ship worldwide. Please note that some products (cakes, patisserie items) can be shipped only to Thessaloniki.
The cost of shipping depends on the product and it varies from 5 to 10 Euros. Chocolaterie products cost 5 euros to ship, Patisserie items as well as the majority of baskets cost 7 Euros to ship while the bigger baskets cost 10 Euros respectively.
Please allow 2-3 working days for delivery, depending on the destination. All orders are normally shipped to the delivery address that you supplied in Greece within 48 hours of receipt, while orders to Thessaloniki are normally shipped within 24 hours respectively. Orders placed at the weekend are sent on Monday evening. Orders placed on a public holiday are sent the next working day.
After you have clicked "Submit My Order", you cannot cancel or change your order. Our system is designed to process and ship orders immediately. However, we will do our best if the order has not already been shipped to try to assist you. Please contact Customer Service.
The customer is responsible for all shipping costs and will be charged accordingly. All items will be inspected for damage and charges will be accessed before a new item is sent. Agapitos Patisserie is not responsible for damage during shipping. Shipping costs are non-refundable. Shipping is part of the transaction, not the product.